Once home to some of the world's greatest artists, writers and poets, the enchanting former village of Montmartre is to Paris what Greenwich Village is for New Yorkers. Among cheesy beret-clad tourists, you will find here the 'bobos' of the city. These are the bourgeois-bohemians: upper-middle class Parisians who thrift €5 tweed jackets while taking pictures with their industrially-produced iPhones. The equivalent of the American hipster…
But with its rich artistic history and quaint feel, Montmartre is indeed a hipster haven. Almost every uphill cobblestone street carries immense history; this area was, after all, a small village that birthed Impressionism and the can-can. At Intripid, we believe that Montmartre is an unmissable spot when you're in Paris. Here, we recommend the top 10 most offbeat things to do there without looking like a typical tourist.
Things to Do in Montmartre: #1
Mulled Wine by the Sacré-Coeur
The Sacré-Coeur (Sacred Heart) basilica is arguably the symbol of Montmartre. Any tourist would climb the hundreds of steps up to snap a picture of it, sure. But what makes this experience even more special is sitting on the steps in front of the church with a cup of hot mulled wine, listening to the street musicians and gazing at one of the most beautiful views of the city. Watch the sun sink with your friends/partner or go solo with a notebook, pen and just your thoughts for company. If you're too tired to climb the steps, you can take the cute little funicular with a normal metro ticket or your NaviGo pass. As this is a tourist hotspot, watch your pockets and beware of annoying cons who will try to put rings or strings around your wrist and then force you to pay them.
Address: 35 Rue du Chevalier de la Barre, 75018 Paris
Metro: Anvers / Pigalle
Things to Do in Montmartre: #2
Amélie Tour
Maybe not the best but probably the most famous French film in the world, Amélie is a charming 2001 film about a naive and lonely young Frenchwoman who decides to become a do-gooder. This warm, quirky movie has garnered a huge following across the world. Fans flock to Paris to visit the various sites where it was shot and most of these are in Montmartre. You can visit:
Café des Deux Moulins – this is where Amélie worked as a waitress (pictured above)! Order a plate of snails with the house fries, select a drink from their decent wine collection, or ask for the 'Amélie formule' which includes a hot drink and a creme brûlée – make sure you break its top with a teaspoon just like the protagonist!
Maison Collignon – the little grocery where Amélie comes to hear neighbourhood gossip, and meets the pedantic Monsieur Collignon, is still alive and well! It's a tiny place full of press clippings about the film and sells fruit & veg along with small, miscellaneous items.
Abbesses: enter Montmartre through this metro station where Amelie drops a coin in the box of a blind man and sees Nino kneeling at a photo booth for the very first time.
Things to Do in Montmartre: #3
Intripid Super Frenchy Challenge
If you're looking for a customized and super fun series of activities to do in the area, Intripid has got you covered! Gather your friends for 2-3 hours and complete a variety of "super frenchy" tasks in order to win prizes and really discover the area. You could end up making crepes in Montmartre's best creperie, playing an escape game, sampling cheeses, doing a wine tasting and many, many more surprises!
For more info: click here
Things to Do in Montmartre: #4
Visit Can-Can Dance Theatres
You've probably already seen this glamorous red windmill on a postcard or in a film. This is the Moulin Rouge, a symbol of all things daring and decadent in Paris. It is a very old cabaret theatre, right outside the Blanche metro station in Montmartre. Open since 1889, it was immortalised in both a Henri Toulouse-Lautrec painting and then a Hollywood film, starring Ewan McGregor and Nicole Kidman. Take a slew of pictures and then make sure you get to see a can-can dance spectacle called the Féerie.
Alternatively, you can visit the Elysées Montmartre at the other end of the street, which is said to be the oldest can-can dance theatre in Paris. It's crumbling a little but remains beautiful regardless, still carrying a great sense of history.
Things to Do in Montmartre: #5
Go thrift shopping like a bobo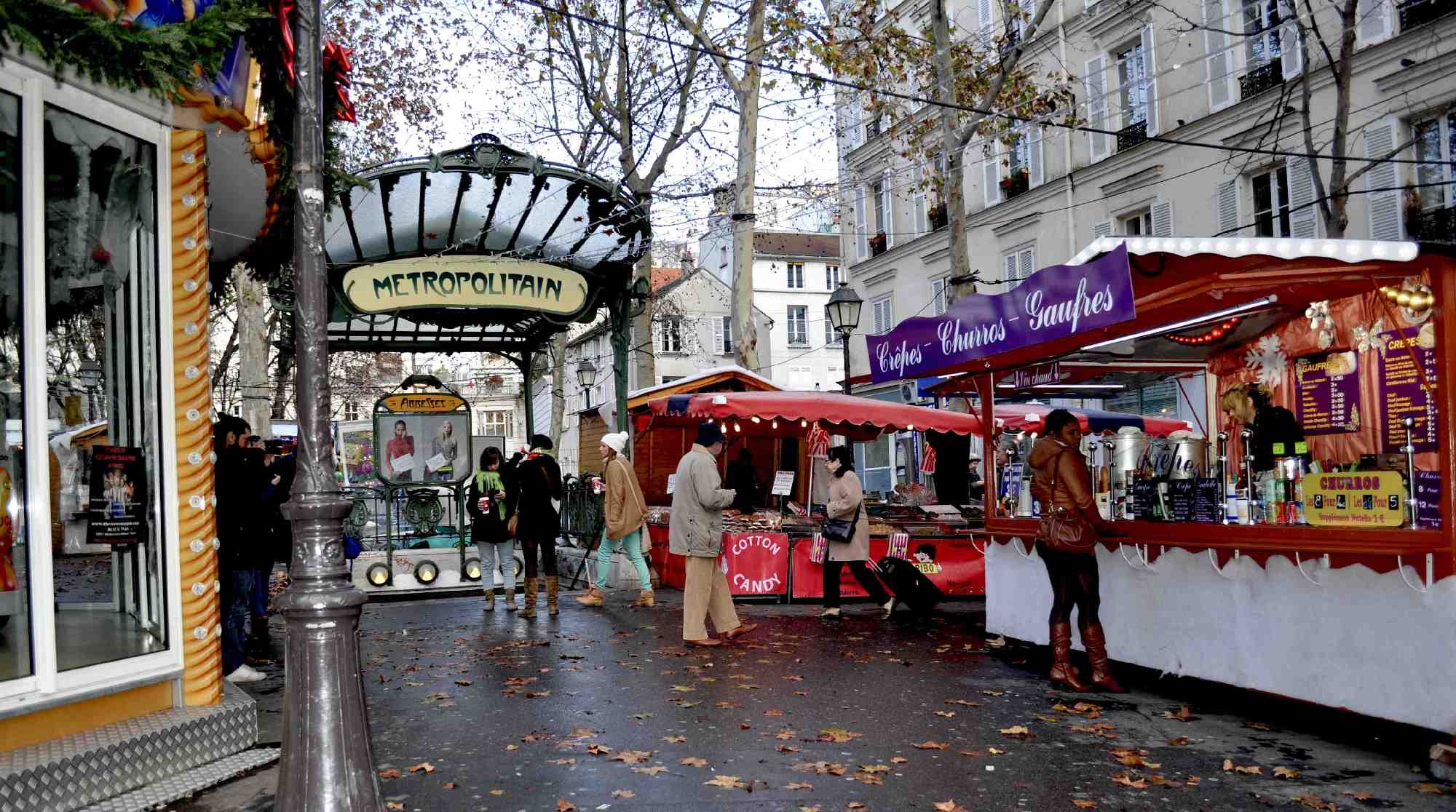 When in Paris, do as the Parisians do…and when in Montmartre, do as the hipster 'bobos' do! This area is chock full of secondhand vintage stores and cheap thrift shops selling eclectic clothing and accessories. Coats, hats and scarves in particular can make for affordable and stylish additions to your closet or even souvenirs. We recommend Guerrisol for a precious bargain.
Things to Do in Montmartre: #6
Maison Rose
The charming pink exterior of Maison Rose is ideal for that perfect Instagram photo. Grab some food or coffee here for a pause during your stroll.
Turn left from the restaurant and you will find the Montmartre Museum, an old refurbished manor house with a lovely garden inside. The famous Impressionist composer Erik Satie used to live here at one point and there is a whole room dedicated to him.
Things to Do in Montmartre: #7
Walk around Place du Tertre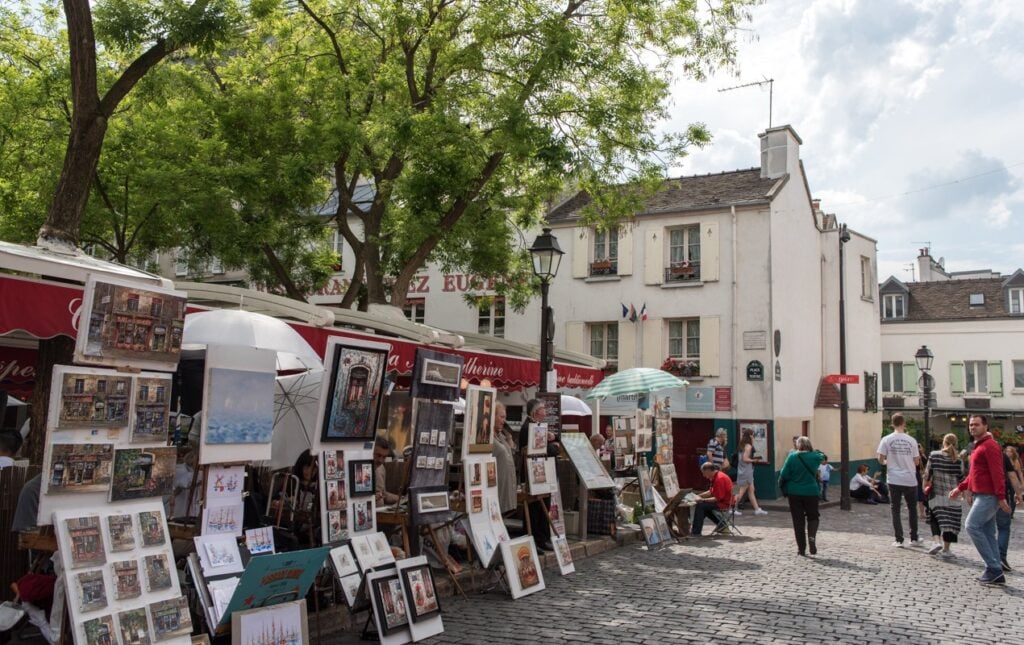 All the great artists of the 2oth century once used to roam here…Picasso, Derain, Soutine, Modigliani, Van Gogh…
But today it teems with street painters, caricaturists and portrait sketchers who may or may not try to con you out of your money. Nevertheless, it's a super fun idea to roam around searching for wall plaques proclaiming things like ""Hemingway once peed in our bathroom…" etc. It's like playing an artistic historical treasure hunt!
Address: Place du Tertre, 75018 Paris
Things to Do in Montmartre: #8
Montmartre Cemetery
Okay, don't get creeped out…we understand a cemetery looks pretty bizarre on a travel list. But this one is sure to make you feel inspired, or at the very least, leave with an interesting story or observation. The Montmartre Cemetery is quite a calm and tranquil haven with beautiful trees and gardens. It's even possible to climb around the tombs to look for lost names or relatives. Maps are available if you're looking for a specific person – there are many famous people buried here, from François Truffaut to Stendhal, Nijinsky, Degas, Dalida, Berlioz, Emile Zola and Adolphe Sax.
But there's more than just trees and tombs. The cemetery is much like a film or the setting of a novel. Many scenes unfold around you – widows clutching flowers, kissing couples in corner nooks, old gardeners bent over tombs, tending to the plants.
The cemetery closes at 6pm.
Address: 20 Avenue Rachel, 75018 Paris
Things to Do in Montmartre: #9
Espace Dali
Fans of Surrealist artist Salvador Dali swear this is a good exhibition to visit. It's a small, intimate space where you can quietly peruse and linger over the works. The museum is also perfect for beginners, those who have not been exposed to much of Dali or are intimidated by his works and want to test the waters.
Things to Do in Montmartre: #10
Moulin de la Galette
Believe it or not, this seemingly insignificant windmill is actually a hugely important artistic landmark. Along with the Moulin Rouge, it is one of the only two windmills left on the hill, which previously used to be covered with them. The Moulin de la Galette is named due to its exterior color which is like a galette, a French savoury crepe. It has now been transformed into a popular restaurant and is located on the Rue Lepic, a very important and central street of the village. Van Gogh used to live at no. 54! Art history nerds will also recognise that the moulin is part of a very famous painting by Renoir titled Bal du moulin de la galette.
Address: 83 Rue Lepic, 75018 Paris