Ahh, a glass of wine by the French Riviera….sounds like an absolute dream, doesn't it? It's like something out of a film – and Intripid is here to make sure this fantasy world becomes a reality! Here are the top 5 classiest bars in Nice, France to make you feel like you've walked straight off the set of the new adaptation of a Fitzgerald novel!
Top 5 Bars in Nice: #1
Shapko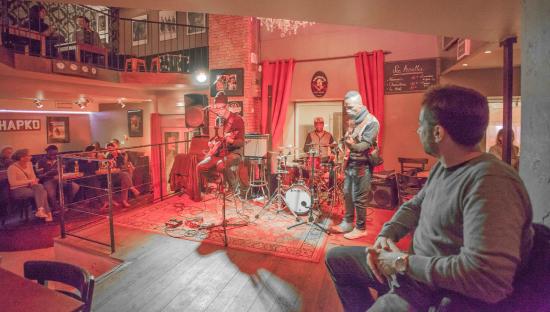 Shapko bar is a smooth, cool jazz bar with live music every night. It's a great place to enjoy the local city culture of Nice – don't miss out!
Address: 5 Rue Rossetti, 06300 Nice
Top 5 Bars in Nice: #2
Intripid Challenge
One of the best ways of enjoying the local drinking culture and getting to know Nice better is doing an Intripid challenge! Our packages include activities like beerpong, becoming a temporary bartender, guessing the ingredients of a giant cocktail, taking flaming shots and making your own crepes or pizza. You only need 2-3 hours from your day and a group of your closest friends for the time of your life!
For more info: click here
Here's a taste:
Top 5 Bars in Nice: #3
Junk House Cafe
Juke House Cafe is a quirky little local bar with great drinks and music. You can also find amazing authentic American food like some smashing burgers that go well with the mojitos. Come here for some good vibes!
Address: 8 Rue Defly, 06000 Nice
Top 5 Bars in Nice: #4
Distilleries Ideal
A fantastic local bar, Distilleries Ideal offers a great meat & cheese platter and excellent cocktails, highly rated by all. The atmosphere is infectiously good, come here for a chill night out.
Address: 24 Rue de la Préfecture, 06300 Nice
Top 5 Bars in Nice: #5
Au Fût et à mesure
One of the best drinking spots in Nice, Au fut et a mesure is a popular beer bar, often full of exuberant youth. But if you're not a beer fan, there's also a cocktail menu. Often concerts are held here too, particularly electro-pop.
Address: 2 Rue Jules Gilly, 06300 Nice